Illicit substances are highly unpredictable and can be mixed with lethal doses of fentanyl that can cause an overdose – even in very small amounts. Individuals who misuse stimulants (e.g., cocaine, amphetamines, methamphetamines) may be unknowingly exposing themselves to fentanyl, and as a result, become especially vulnerable to overdosing. Counterfeit pills, such as "blue oxys" and fake Xanax, have become increasingly available and are commonly laced with fentanyl.
Can you spot the fakes?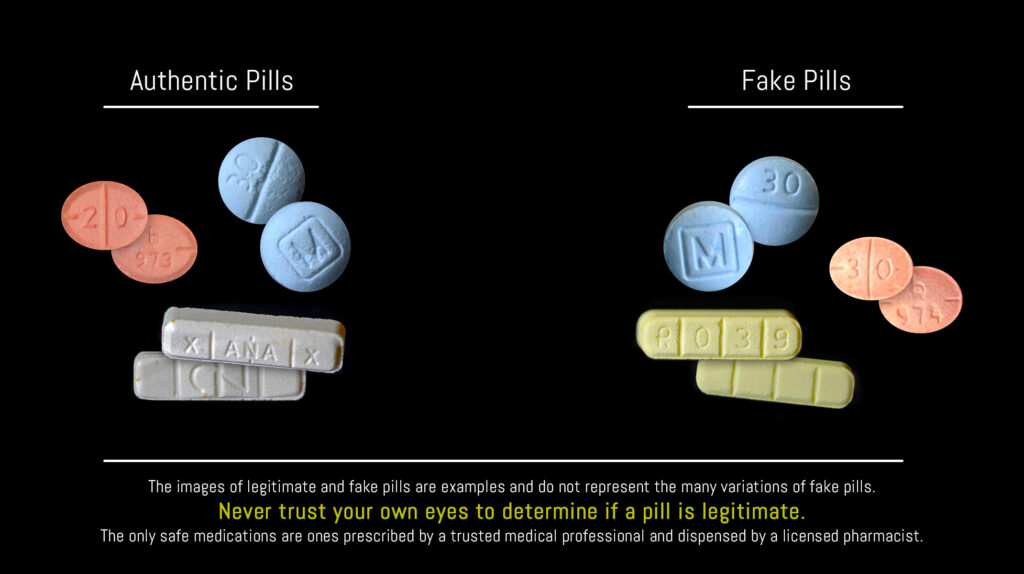 Counterfeiters go out of their way to make their fake pills look real. So, to help curb the dramatic increase in drug overdose deaths driven by synthetic opioids like fentanyl, federal funding is being used to purchase, and make available, rapid fentanyl test strips. These strips can be used to reveal whether drugs have been mixed or cut with fentanyl. The goal is to help people who use drugs reduce their risk of an overdose. DAODAS partners with many community distributors of naloxone in South Carolina to enhance their overdose prevention programs by providing fentanyl test strips at no cost and so they can be used by the public. To locate a Community Distributor of naloxone that also provides fentanyl test strips, click here.
NOTE: A negative test result does not mean an individual's drugs are 100% safe. All street drug use comes with risks.
For more information regarding fentanyl, visit:
Facts about fake pills:
https://www.dea.gov/onepill
Fentanyl awareness:
https://www.dea.gov/fentanylawareness
Prevention and awareness:
https://facingfentanylnow.org
Overdose prevention:
https://cdc.gov/drugoverdose/featured-topics/overdose-prevention-campaigns.html
Facts about fentanyl:
https://cdc.gov/stopoverdose/fentanyl/index.html
https://nida.nih.gov/publications/drugfacts/fentanyl
Press Releases/News:
The U.S. Drug Enforcement Administration is advising the public of an alarming emerging trend of colorful fentanyl – dubbed "rainbow fentanyl" by the media – that is becoming available across the United States. In August 2022, DEA and its law enforcement partners began seizing brightly colored fentanyl and fentanyl pills in 18 states.  To view the press release issued by the DEA, go to: https://www.dea.gov/press-releases/2022/08/30/dea-warns-brightly-colored-fentanyl-used-target-young-americans